Summer Fun-Tastic Meal Program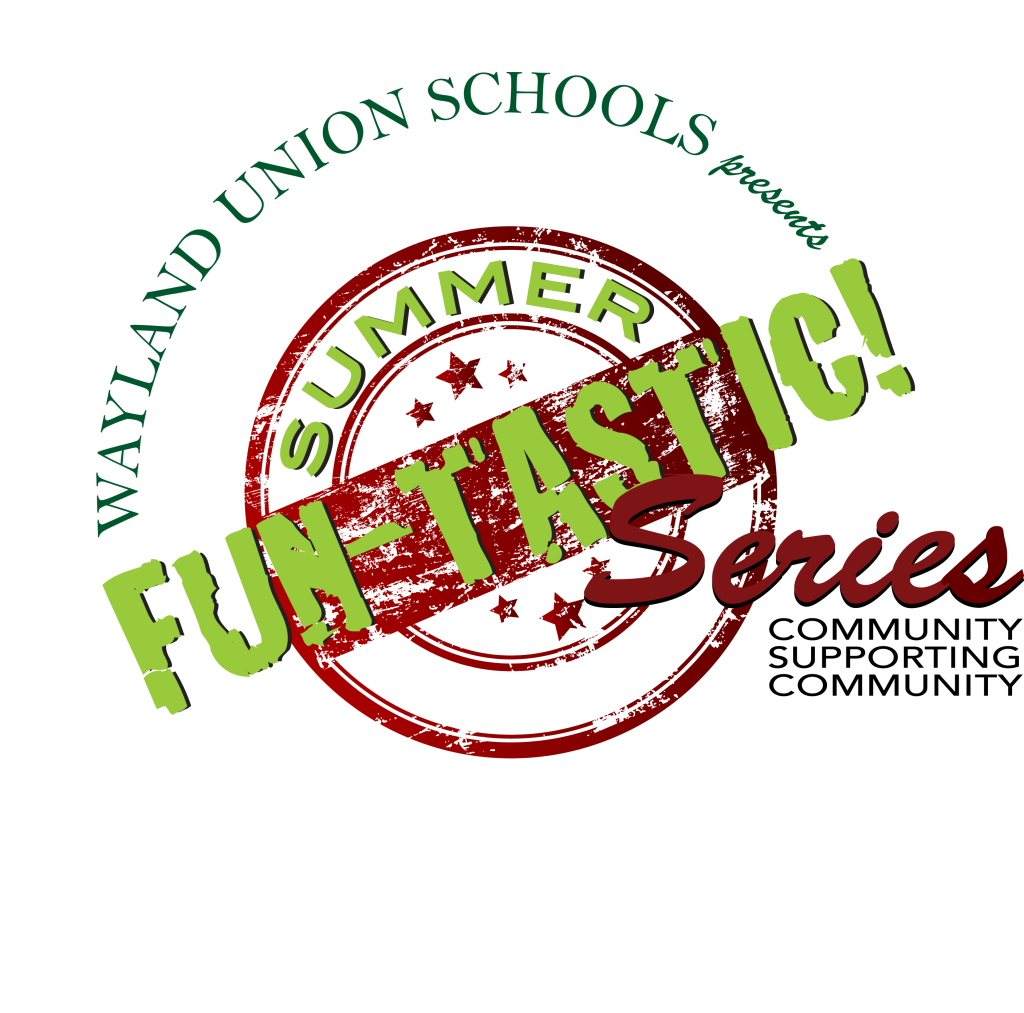 2019 Summer Fun-Tastic Series & Free Meals
June 11 – August 16
Wayland Union Schools has partnered with local businesses and the Henika Library to offer a series of fun, summer events where a free meal will be provided for children age 18 & under.

Summer Fun-Tastic Flyer

Summer Lunch Menus
Calendars June 2019 July 2019 August 2019
Free lunches will be served Monday through Friday, June 11-August 16, 2019 (closed July 1-5) at a variety of locations: Steeby Elementary School, Hunters Glen Mobile Home Community, and Windsor Woods Village. On Wednesday, June 12 lunch will only be served at the Wayland City Park during the Bounce Party.
Beginning June 11th, there will be opportunities for students to participate in fun, free events in the Wayland area. Lunch will be served immediately following the events listed below unless otherwise stated. Adults may purchase lunch for $3.00 and is served free to children age 18 & under.
Thanks to our sponsors: Dr. Scott Bloom, Chartwells, Chemical Bank, Clark Hill, Full Potential Chiropractic, KSS Services, Legacy Legal & Business Services, Oetman Excavating, ProMow Lawncare, Reno Agency, Spectrum Health Pennock Family Medicine – Gun Lake, Tower Pinkster, Triangle & Associates, United Bank, Wayland Chamber of Commerce, Wayland Union Education Foundation, Wayland Union Education Association and our partners: Henika Library, Hunters Glen, and Windsor Woods Village.
In addition to the free meals, fun, free events will be offered to the community:
Bounce Party - Wednesday, June 12 at 10a-1p @ Wayland City Park. Kids will have lots of fun playing on large inflatables. Music DJ and a free Curly Cone ice cream treat. Free Lunch 11:30am-12:30pm
Animal X-Files – Nature program, Tuesday, June 18 at 10:30am @ Steeby Elementary. Free lunch at 11:30am – Noon.
Jennifer Strauss/Storyteller "S.T.E.A-ming Through Space" - Wednesday, June 19 at 10:45am @ Steeby Elementary. Free Lunch 11:30am – Noon. Free books to first 100 kids!
Playtime in the Park- Monday, June 24 at 11:00am @ Wayland City Park. Free book for each family. For children age birth to 5, older siblings are welcome to join! Free Lunch Noon-12:30pm
Astronaut Obstacle Course - Tuesday, June 25 at 10:30am @ Henika Library. Lunch served at Steeby 11:30am – Noon
BenJammin' – Tuesday, July 9 at 10:30am @ Steeby Elementary. Lunch at 11:30am-Noon.
Science Tellers - Tuesday, July 16 at 10:30am @ Steeby Elementary. Lunch at Steeby Elem. 11:30am – Noon
Playtime in the Park - Monday, July 22at 11:00am @ Wayland City Park. Free book for each family. For children age birth to 5, older siblings are welcome to join! Lunch Noon-12:30pm
Stomp Rockets – Tuesday, July 23, 10:30am @ Henika Library. Lunch served at Steeby, 11:30-Noon
Cirque Amongus – Tuesday, July 30 at 10:30am @ Steeby Elementary. Lunch at 11:30-Noon
Avian Wonders Exotic Bird Show – Wednesday, July 31 at 10:45am @ Steeby Elementary. Lunch at 11:30-Noon. Free books to first 100 kids!
Baffling Bill Magician – Wednesday, August 7 at 10:45am @ Steeby Elementary. Lunch at 11:30-Noon. Free books to first 100 kids!
Playtime in the Park - Monday, August 12 at 11:00am @ Wayland City Park. Free book for each family. For children age birth to 5, older siblings are welcome to join! Lunch Noon-12:30pm