Fitness Classes
Group fitness is a great way to stay committed, form friendships, and have a great time while breaking a sweat. Make it a group thing and find your strength in numbers!
Cardio Sculpt
Cardio Sculpt is an hour long class that is for any fitness level, from beginner to advance. This class combines a combination of hi-lo cardio with muscle sculpting weight exercises. The strength circuits focus on different sets of muscle groups. The cardio intervals change each week. Bring a mat and hand weights and come sculpt your way to health.
Boot Camp
Boot Camp is an interval-based class that alternates between cardiovascular training and strength training. Participants will focus on improving overall conditioning and performance while effectively progressing toward fitness and wellness goals.
HIIT (High Intensity Interval Training)
HIIT class is a total body, heart pumping, aerobic and strength conditioning workout. This interval-based class combines full-body strength training with high intensity cardio bursts designed to tone your body, improve your endurance and clear your mind.
ZUMBA
This workout is a dynamic fitness program using Latin dance. Come experience the exhilaration of moving your body to the rhythm of the music! This class features easy-to-follow moves in interval training sessions with fast and slow rhythms, stretching, and most importantly FUN!
Water Aerobics
If you are looking for a workout which will maintain or increase your fitness level with less impact on your joints, a "liquid gym" is the place to be! This class is designed to improve cardio conditioning, alternating with strength/balance and core.
Belly Dancing
Belly Dance Basics teaches core belly dance movements pulling from several genres of belly dance to a mix of traditional and modern music while providing fun and low-impact exercise. This class is appropriate for beginners. Hip scarves are encouraged but not required.
Kayaking Skills Class
The Kayak Skills course gives students fundamental kayak skills for both recreational and sea-kayaking. Both beginners and experienced kayakers will learn and improve their skills through this course which covers efficient techniques and necessary safety skills. Techniques covered include how to efficiently move the boat: forward, sideways, turning, stopping and bracing. T-rescue, and unassisted rescue and recovery methods will also be discussed and taught. Recommended for anyone who wants to be a better safer paddler. Students who have successfully completed this course feel comfortable safely kayaking away from the shoreline. Bring your own kayak or we can provide one at a reasonable rental fee. Call 269-792-0011 or email charonj@waylandunion.org

Register online head of time for any one of our 8 week sessions through Regwerks and only pay $56 for the session. Register for classes now!
Punch Card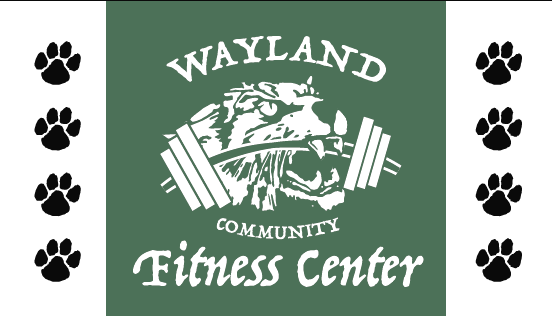 You may also purchase a punch card. Punch cards will be accepted at any of our fitness classes and can be mixed and matched among classes. Each punch card will consisted of 8 classes all for an affordable cost of only $70. Stop by the Community Fitness Center during business hours to purchases a card or call 269-792-0011 with any questions.