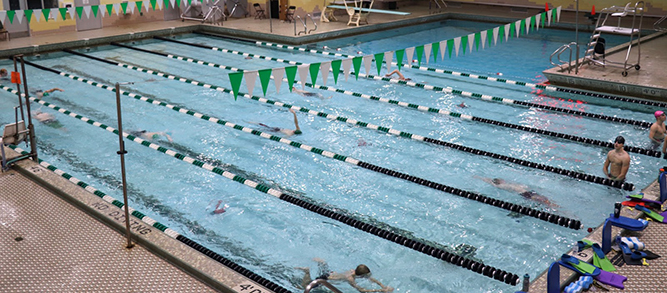 Pool Information
870 E. Superior Street, Wayland, MI 49348
The pool is located at the Wayland High School and serves the communities of the greater Wayland area. We offer a wide range of programming including; Lap swim, open swim, water aerobics and swim lessons. We are contributing to our community by helping everyone meet their aquatic goals. Come make a splash with us!
Adult Lap Swim Mon/Wed/Fri 6am-7:20am; Saturday 8am-9:30am (subject to lifeguard availability)
Open Swim Mon/ Wed 6:00pm-8:00pm & Saturday: 9:30-Noon, (subject to lifeguard availability)
Notices of any pool closures will be placed on the district Facebook page and the WUS app.
Fees
Daily Rates:
WUS K-12 Students are FREE (see rules for supervision requirements)
Children under 5 years old - Free with paid adult admission (1 free child per paid adult, if more than 1 child per paid adult, child price $4/child) (see rules for supervision requirements)
Adults $4/day
Age 60+ $3/day
Non-Resident Students $4/day (see rules for supervision requirements)
For student and child usage requirements, please see pool rules below.

Lap Swim
Lap swim is a great way for swimmers to get into a morning exercise routine. During lap swim times all participants are encouraged to swim laps. Students are allowed to attend as long as they are doing laps. Swimmers are required to share lanes when necessary. Splitting lanes and circle swimming is encouraged to ensure all patrons have the opportunity to swim.
Open Swim
Open to anyone for recreational or fitness swimming. At this time, you have the opportunity to play, water walk, exercise, dive or swim laps (Ask a Lifeguard if you would like a lap lane put in the pool). Adults must accompany children 7th grade and under. Those students 7th grade and up can use the pool independently if they have a completed facility use agreement and check in at the fitness center desk. Noodles, balls, life jackets, Aqua-joggers and other toys are available and permitted upon lifeguard approval. Please note; that on occasion we may have youth swim programs and other activities at the pool that my limit space. We ask that everyone work together in sharing the pool. You can check our calendar for the latest scheduled activities.
Water Aerobics
Jump right into our aqua classes and build cardiovascular fitness strength. Just like swimming, our water aerobic classes are easy on your joints, yet challenging enough to help you reach new levels of fitness. Because of the low-impact format, water aerobics classes are suitable for every age and fitness level. For more information, call 269-792-0011 or email waylandfitness@waylandunion.org
Pool Parties
The Wayland pool is available for anyone in the community to rent for parties or other events. Prices vary based on the number of swimmers and the amount of time the pool is rented.
Wayland Community Fitness Center and Pool Rules
/downloads/fitness_center_docs/wayland_community_pool_rules.pdf
/downloads/fitness_center_docs/wayland_community_fitness_center_rules.pdf
For more information, call 269-792-0011 or email waylandfitness@waylandunion.org
Lanes: 6 (25 Yards)
Diving Boards: 1 meter board
Water Temperature: ~ 81 Degrees
Accessibility: Aquatic Lift
Locker Rooms: Men's and Women's; no family locker rooms.
Equipment Available: Noodles, Kickboards, Aqua-Joggers, Foam Water Weights and Misc. Toys
Lifeguards: There is always a lifeguard on duty.
Wayland Union High School Pool
870 E. Superior Street
Wayland, MI 49348
Phone: 269-792-0011
Email: waylandfitness@waylandunion.org