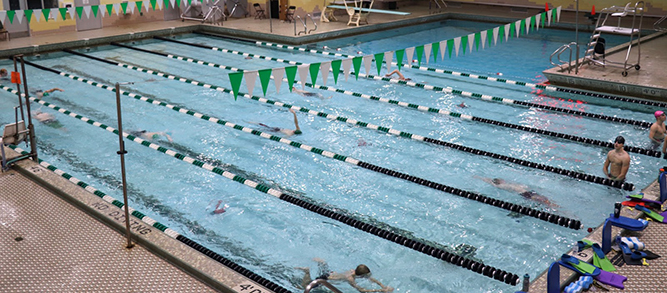 Pool Information
870 E. Superior Street, Wayland, MI 49348
The pool is located at the Wayland High School and serves the communities of the greater Wayland area.
New Pool Hours
Adult Lap Swim: Mon & Wed 6:00 - 7:00 am. (ending May 19, 2021)
Fees
Adults $5/day
Age 60+ $3/day
Non-Resident Students $5/day (see rules for supervision requirements)
Lap Swim

Lap swim is a great way for swimmers to get into a morning exercise routine. During lap swim times all participants are encouraged to swim laps. Students are allowed to attend as long as they are doing laps. Swimmers are required to share lanes when necessary. Splitting lanes and circle swimming is encouraged to ensure all patrons have the opportunity to swim.
Wayland Community Fitness Center and Pool Rules
/downloads/fitness_center_docs/wayland_community_pool_rules.pdf
/downloads/fitness_center_docs/wayland_community_fitness_center_rules.pdf
For more information, call 269-792-0011 or email waylandfitness@waylandunion.org
Lanes: 6 (25 Yards)
Diving Boards: 1 meter board
Water Temperature: ~ 81 Degrees
Accessibility: Aquatic Lift
Locker Rooms: Men's and Women's; no family locker rooms.
Equipment Available: Noodles, Kickboards, Aqua-Joggers, Foam Water Weights and Misc. Toys
Lifeguards: There is always a lifeguard on duty.
Wayland Union High School Pool
870 E. Superior Street
Wayland, MI 49348
Phone: 269-792-0011
Email: waylandfitness@waylandunion.org
Pool Hours:
Morning Lap Swim: Mon/Wed, 6am-7am