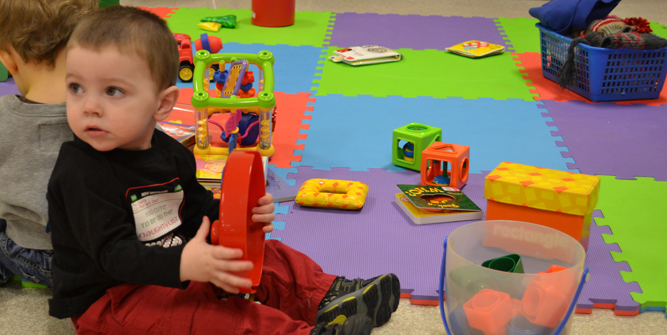 Early Childhood & Preschools
2019-2020 Preschool & Kindergarten Early Childhood Nights
Wayland Union Schools will host Early Childhood Nights
February 19 & 20, 2018
Wayland Union Schools, MI- Families who would like to learn more about Wayland Union Schools' Preschool and Kindergarten programs can attend the Early Childhood Nights scheduled for Tuesday, February 19 at Dorr Elementary and Wednesday, February 20 at Baker Elementary. Both schools will have a presentation for parents from 6:00 – 6:30pm where they can hear an overview of all of the district's early childhood programs. From 6:30-7:30pm, parents and children can visit classrooms, meet teachers, tour the building, visit various information booths, and register their child for preschool or kindergarten.
The district offers very low tuition rates for three and four year old preschool due to cash in lieu of taxes from the Gun Lake Casino. Rates for in-district residents have been reduced by nearly 50% from previous years. Free preschool is also available for families who qualify through Head Start and Great Start Readiness programs.
For 3 & 4 year old preschool, children must turn either 3 or 4 on or before September 1, 2019. Kindergarten/Young Five students must turn 5 on or before September 1, 2019.
The preferred enrollment period for tuition preschool and Kindergarten is February 19 –March 8, 2019. Families can also complete their pre-registration online which is found on the WUS district website. This will not guarantee placement/enrollment until final paperwork is turned into the office but will provide the district with basic family information. Please bring your child's birth certificate, proof of residency and deposit for preschool to the Early Childhood Nights or to the school office.


Baker Elementary School Dorr Elementary School
507 W. Sycamore Street 4159 – 18th Street
Wayland, MI 49348 Dorr, MI 49323
269-792-9208 616-681-9637
Early Childhood
The early years of a child's life are very important to their success in school and life. Parents are also their child's first and most important teacher. At Wayland Union Schools, we want to partner with you to support your parenting efforts, starting at birth!
Welcoming Schools will help parents with children age birth to five years old prepare for school success. There are many resources, ideas and activities within this website to assist you in your parenting efforts.

If you would like a home visit from our Family Coach or have a concern about your child's development, please call 269-792-9153 or email Laurie Zywiczynski, lauriez@waylandunion.org
For more information on our preschool and kindergarten programs, see the links to the right.
All families in the Wayland Union School district with children ages 0-5 are encouraged to enroll their children with Welcoming Schools. Please call 269-792- 9153 to receive a Lil' Wildcat Welcome Kit or fill out the Welcome Kit Request Form.
Wayland Welcoming Schools
435 E. Superior Street
Wayland, MI 49348
Phone: 269-792-2281 ext. 2811
Laurie Zywiczynski
Director of Community Relations
Phone: (269) 792-9153
Extension: 2810

Send me a message