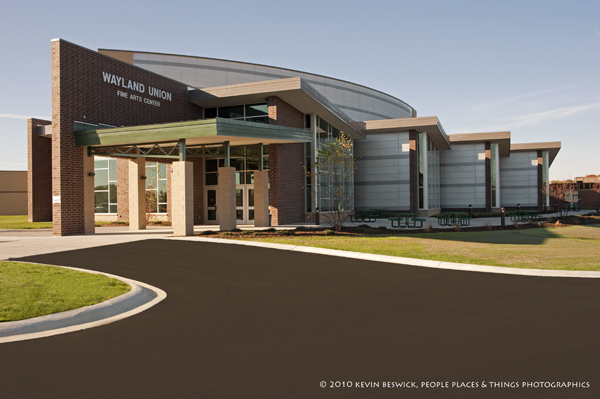 Wayland Union Fine Arts Center
In May 2008 the residents of the Wayland Union School District passed a $39 million bond to renovate and upgrade several schools. Included in this bond would be a modern and updated fine and performing arts facility. On December 3, 2010 the Wayland Union Fine Arts Center opened its doors to the school and community.
The center boasts an 800 seat modern performance venue, a dance studio, and a multi-use Grand Hall, which serves during the school day as one of the finest cafeterias you will find anywhere in the state. The WUFAC hosts over 100+ events each year ranging from school concerts and athletic banquets to guest performances.
The facility is also available for rent and is often used by area companies and non-profit groups for meetings and other events. Contact the Fine Arts Center Director for more information.
Looped for the hearing impaired!
The WUFAC is equipped with a hearing loop for the hearing impaired. Switch your hearing aid to the t-coil setting.
Fine Arts Center Calendar
Fine Arts Center Calendar

Previous

September

2023

Next

S
M
T
W
T
F
S
1
2
3
4
5
6
7
8
9
10
11
12
13
14
15
16
17
18
19
20
21
22
23
24
25
26
27
28

Sep 28

3:00 PM to 4:00 PM

WUHS Thespian Society presents the one act: No Substitutes

Location:

WUFAC - Auditorium

Cost:

$5 General Admission (if paying cash)

Calendar:

Fine Arts Center Calendar

WUHS Thespian Society presents the one act play No Substitutes by Don Zolidis.

The teacher is out sick, or is perhaps having a mental breakdown. The school district is having trouble finding qualified substitutes, so what's the solution? Find unqualified substitutes! Mayhem ensues as a series of interesting community members try their hand at teaching plate tectonics to a class that wishes fervently for their real teacher to come back.

$5 General Admission ($1.00 fee added for credit/debit cards) - available online at wufactickets.ludus.com

Entry door 12.

29

Sep 29

3:00 PM to 4:00 PM

WUHS Thespian Society presents the one act: No Substitutes

Location:

WUFAC - Auditorium

Cost:

$5 General Admission (if paying cash)

Calendar:

Fine Arts Center Calendar

WUHS Thespian Society presents the one act play No Substitutes by Don Zolidis.

The teacher is out sick, or is perhaps having a mental breakdown. The school district is having trouble finding qualified substitutes, so what's the solution? Find unqualified substitutes! Mayhem ensues as a series of interesting community members try their hand at teaching plate tectonics to a class that wishes fervently for their real teacher to come back.

$5 General Admission ($1.00 fee added for credit/debit cards) - available online at http://www.wufactickets.ludus.com

Entry door 12.

7:00 PM to 8:00 PM

WUHS Thespian Society presents the one act: No Substitutes

Location:

WUFAC - Auditorium

Cost:

$5 General Admission (if paying cash)

Calendar:

Fine Arts Center Calendar

WUHS Thespian Society presents the one act play No Substitutes by Don Zolidis.

The teacher is out sick, or is perhaps having a mental breakdown. The school district is having trouble finding qualified substitutes, so what's the solution? Find unqualified substitutes! Mayhem ensues as a series of interesting community members try their hand at teaching plate tectonics to a class that wishes fervently for their real teacher to come back.

$5 General Admission ($1.00 fee added for credit/debit cards) - available online at http://www.wufactickets.ludus.com

Entry door 12.

30
Upcoming Events

WUHS Thespian Society presents the one act: No Substitutes

Location:

WUFAC - Auditorium

Cost:

$5 General Admission (if paying cash)

Calendar:

Fine Arts Center Calendar

WUHS Thespian Society presents the one act play No Substitutes by Don Zolidis.

The teacher is out sick, or is perhaps having a mental breakdown. The school district is having trouble finding qualified substitutes, so what's the solution? Find unqualified substitutes! Mayhem ensues as a series of interesting community members try their hand at teaching plate tectonics to a class that wishes fervently for their real teacher to come back.

$5 General Admission ($1.00 fee added for credit/debit cards) - available online at wufactickets.ludus.com

Entry door 12.

WUHS Thespian Society presents the one act: No Substitutes

Location:

WUFAC - Auditorium

Cost:

$5 General Admission (if paying cash)

Calendar:

Fine Arts Center Calendar

WUHS Thespian Society presents the one act play No Substitutes by Don Zolidis.

The teacher is out sick, or is perhaps having a mental breakdown. The school district is having trouble finding qualified substitutes, so what's the solution? Find unqualified substitutes! Mayhem ensues as a series of interesting community members try their hand at teaching plate tectonics to a class that wishes fervently for their real teacher to come back.

$5 General Admission ($1.00 fee added for credit/debit cards) - available online at http://www.wufactickets.ludus.com

Entry door 12.

WUHS Thespian Society presents the one act: No Substitutes

Location:

WUFAC - Auditorium

Cost:

$5 General Admission (if paying cash)

Calendar:

Fine Arts Center Calendar

WUHS Thespian Society presents the one act play No Substitutes by Don Zolidis.

The teacher is out sick, or is perhaps having a mental breakdown. The school district is having trouble finding qualified substitutes, so what's the solution? Find unqualified substitutes! Mayhem ensues as a series of interesting community members try their hand at teaching plate tectonics to a class that wishes fervently for their real teacher to come back.

$5 General Admission ($1.00 fee added for credit/debit cards) - available online at http://www.wufactickets.ludus.com

Entry door 12.

WUHS National Honor Society Induction Ceremony

Location:

WUFAC - Auditorium

Calendar:

Fine Arts Center Calendar

WUHS National Honor Society Induction Ceremony

Entry doors #11 & 12.

The event will be live streamed on the Wayland Union Fine Arts Center YouTube channel: youtube.com/c/WaylandUnionFineArtsCenter