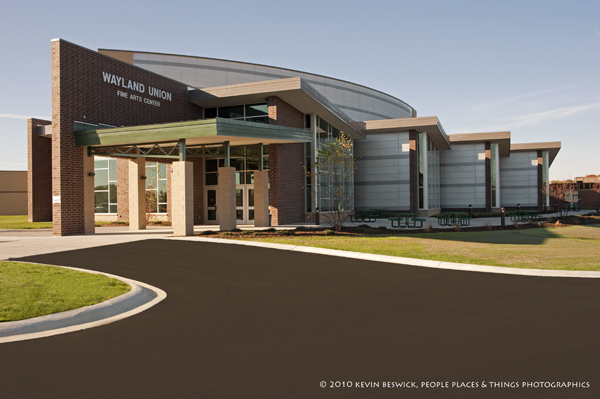 Wayland Union Fine Arts Center
In May 2008 the residents of the Wayland Union School District passed a $39 million bond to renovate and upgrade several schools. Included in this bond would be a state of the art fine and performing arts facility. On December 3, 2010 the Wayland Union Fine Arts Center opened its doors to the school and community.
The center boasts an 800 seat state of the art performance venue, a dance studio and one of the finest cafeterias you will find anywhere in the state. The FAC hosts over 100 events each year ranging from school concerts and athletic banquets to guest performances by bands like WAYLAND and the Williams Family.
The facility is also available for rent and is often used by area companies and non-profit groups for meetings and other events. Contact the Fine Arts Center Director for more information.
Looped for the hearing impaired!
The WUFAC is equipped with a hearing loop for the hearing impaired. Switch your hearing aid to the t-coil setting.
Fine Arts Center Calendar
Fine Arts Center Calendar

Previous

February

2023

Next

S
M
T
W
T
F
S
1
2

Feb 2

3:00 PM to 5:00 PM

Wayland Theatriks presents "Blithe Spirit"

Location:

WUFAC - Auditorium

Cost:

$6 Debit or Credit Cards ahead of time online or at the door. $5 Cash at the door.

Calendar:

Fine Arts Center Calendar

Purchase tickets (choose seats) ahead of time with debit/credit card online - $6: wufactickets.ludus.com

Or purchase tickets (choose seats) with cash at the door - $5

(Debit/Credit cards at the door - $6)

One evening, Charles invites local eccentric medium, Madame Arcati, to hold a seance at his house. He asks along his friends, Dr. and Mrs. Bradman, intending to gather character inspiration from Madame Arcati for his latest book. Despite initially thinking the seance has been a failure, it soon becomes clear that Madame Arcati has unwittingly brought back Charles' first wife, Elvira, to haunt him. Once in his house, Elvira is unable to leave and, as she cannot be seen or heard by Ruth, she causes all kinds of mischievous trouble between the married couple. When Elvira unwittingly causes Ruth's death in her attempts to bring Charles over to be with her, Charles becomes haunted by both of his now-deceased wives. Frustrated by their odd situation, the threesome call on Madame Arcati once more to send Elvira and Ruth back to the other side.

Entry doors 11 & 12.

3

Feb 3

7:00 PM to 9:00 PM

Wayland Theatriks presents "Blithe Spirit"

Location:

WUFAC - Auditorium

Cost:

$6 Debit or Credit Cards ahead of time online or at the door. $5 Cash at the door.

Calendar:

Fine Arts Center Calendar

Purchase tickets (choose seats) ahead of time with debit/credit card online - $6: wufactickets.ludus.com

Or purchase tickets (choose seats) with cash at the door - $5

(Debit/Credit cards at the door - $6)

One evening, Charles invites local eccentric medium, Madame Arcati, to hold a seance at his house. He asks along his friends, Dr. and Mrs. Bradman, intending to gather character inspiration from Madame Arcati for his latest book. Despite initially thinking the seance has been a failure, it soon becomes clear that Madame Arcati has unwittingly brought back Charles' first wife, Elvira, to haunt him. Once in his house, Elvira is unable to leave and, as she cannot be seen or heard by Ruth, she causes all kinds of mischievous trouble between the married couple. When Elvira unwittingly causes Ruth's death in her attempts to bring Charles over to be with her, Charles becomes haunted by both of his now-deceased wives. Frustrated by their odd situation, the threesome call on Madame Arcati once more to send Elvira and Ruth back to the other side.

Entry doors 11 & 12.

4

Feb 4

3:00 PM to 5:00 PM

Wayland Theatriks presents "Blithe Spirit"

Location:

WUFAC - Auditorium

Cost:

$6 Debit or Credit Cards ahead of time online or at the door. $5 Cash at the door.

Calendar:

Fine Arts Center Calendar

Purchase tickets (choose seats) ahead of time with debit/credit card online - $6: wufactickets.ludus.com

Or purchase tickets (choose seats) with cash at the door - $5

(Debit/Credit cards at the door - $6)

One evening, Charles invites local eccentric medium, Madame Arcati, to hold a seance at his house. He asks along his friends, Dr. and Mrs. Bradman, intending to gather character inspiration from Madame Arcati for his latest book. Despite initially thinking the seance has been a failure, it soon becomes clear that Madame Arcati has unwittingly brought back Charles' first wife, Elvira, to haunt him. Once in his house, Elvira is unable to leave and, as she cannot be seen or heard by Ruth, she causes all kinds of mischievous trouble between the married couple. When Elvira unwittingly causes Ruth's death in her attempts to bring Charles over to be with her, Charles becomes haunted by both of his now-deceased wives. Frustrated by their odd situation, the threesome call on Madame Arcati once more to send Elvira and Ruth back to the other side.

Entry doors 11 & 12.

7:00 PM to 9:00 PM

Wayland Theatriks presents "Blithe Spirit"

Location:

WUFAC - Auditorium

Cost:

$6 Debit or Credit Cards ahead of time online or at the door. $5 Cash at the door.

Calendar:

Fine Arts Center Calendar

Purchase tickets (choose seats) ahead of time with debit/credit card online - $6: wufactickets.ludus.com

Or purchase tickets (choose seats) with cash at the door - $5

(Debit/Credit cards at the door - $6)

One evening, Charles invites local eccentric medium, Madame Arcati, to hold a seance at his house. He asks along his friends, Dr. and Mrs. Bradman, intending to gather character inspiration from Madame Arcati for his latest book. Despite initially thinking the seance has been a failure, it soon becomes clear that Madame Arcati has unwittingly brought back Charles' first wife, Elvira, to haunt him. Once in his house, Elvira is unable to leave and, as she cannot be seen or heard by Ruth, she causes all kinds of mischievous trouble between the married couple. When Elvira unwittingly causes Ruth's death in her attempts to bring Charles over to be with her, Charles becomes haunted by both of his now-deceased wives. Frustrated by their odd situation, the threesome call on Madame Arcati once more to send Elvira and Ruth back to the other side.

Entry doors 11 & 12.

5
6
7
8
9

Feb 9

7:00 PM to 8:00 PM

Wildcat Dance Theatre Winter Concert

Location:

WUFAC - Auditorium

Calendar:

Fine Arts Center Calendar

WUHS Wildcat Dance Theatre presents it's Winter Dance Concert.

Entry doors 11 & 12.

10
11
12
13
14
15

Feb 15

7:00 PM to 8:30 PM

WUHS Band & Orchestra Pre-Festival Concert

Location:

WUFAC - Auditorium

Calendar:

Fine Arts Center Calendar

WUHS Bands & Orchestras present their Pre-Festival Concert.

Entry doors 11 & 12.

The concert will be live streamed on the Wayland Union Fine Arts Center YouTube channel: https://www.youtube.com/channel/UCnhAVUmU0XmSEYkqDYe_llg

16
17
18
19
20
21

Feb 21

7:00 PM to 8:30 PM

WUHS Choir Festival Concert

Location:

WUFAC - Auditorium

Calendar:

Fine Arts Center Calendar

WUHS Choirs present their Festival Concert.

Entry doors 11 & 12.

The concert will be live streamed on the Wayland Union Fine Arts Center YouTube channel: https://www.youtube.com/channel/UCnhAVUmU0XmSEYkqDYe_llg

22
23
24
25
26
27
28
Upcoming Events