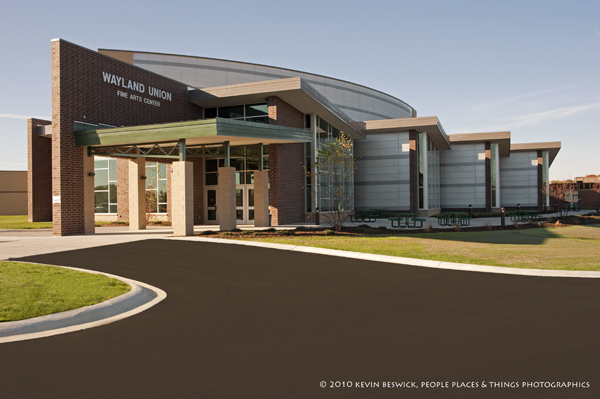 Wayland Union Fine Arts Center
In May 2008 the residents of the Wayland Union School District passed a $39 million bond to renovate and upgrade several schools. Included in this bond would be a modern and updated fine and performing arts facility. On December 3, 2010 the Wayland Union Fine Arts Center opened its doors to the school and community.
The center boasts an 800 seat modern performance venue, a dance studio and one of the finest cafeterias you will find anywhere in the state. The WUFAC hosts over 100 events each year ranging from school concerts and athletic banquets to guest performances by bands like WAYLAND and the Williams Family.
The facility is also available for rent and is often used by area companies and non-profit groups for meetings and other events. Contact the Fine Arts Center Director for more information.
Looped for the hearing impaired!
The WUFAC is equipped with a hearing loop for the hearing impaired. Switch your hearing aid to the t-coil setting.
Fine Arts Center Calendar
Fine Arts Center Calendar

Previous

May

2023

Next

S
M
T
W
T
F
S
1
2
3
4

May 4

3:00 PM to 4:30 PM

Wayland Theatriks presents "Disney's Descendants: The Musical"

Location:

WUFAC - Auditorium

Calendar:

Fine Arts Center Calendar

Based on the popular Disney Channel Original Movies, Disney's Descendants: The Musical is a brand-new musical jam-packed with comedy, adventure, Disney characters, and hit songs from the films!

Imprisoned on the Isle of the Lost – home of the most infamous villains who ever lived – the teenaged children of Maleficent, the Evil Queen, Jafar, and Cruella De Vil have never ventured off the island… until now. When the four troublemakers are sent to attend prep school alongside the children of beloved Disney heroes, they have a difficult choice to make: should they follow in their parents' wicked footsteps or learn to be good?

$15 General Admission ($1.50 fee added for credit/debit cards) - available online at http://www.wufactickets.ludus.com

Entry doors #11 & 12.

5

May 5

7:00 PM to 8:30 PM

Wayland Theatriks presents "Disney's Descendants: The Musical"

Location:

WUFAC - Auditorium

Calendar:

Fine Arts Center Calendar

Based on the popular Disney Channel Original Movies, Disney's Descendants: The Musical is a brand-new musical jam-packed with comedy, adventure, Disney characters, and hit songs from the films!

Imprisoned on the Isle of the Lost – home of the most infamous villains who ever lived – the teenaged children of Maleficent, the Evil Queen, Jafar, and Cruella De Vil have never ventured off the island… until now. When the four troublemakers are sent to attend prep school alongside the children of beloved Disney heroes, they have a difficult choice to make: should they follow in their parents' wicked footsteps or learn to be good?

$15 General Admission ($1.50 fee added for credit/debit cards) - available online at http://www.wufactickets.ludus.com

Entry doors #11 & 12.

6

May 6

3:00 PM to 4:30 PM

Wayland Theatriks presents "Disney's Descendants: The Musical"

Location:

WUFAC - Auditorium

Calendar:

Fine Arts Center Calendar

Based on the popular Disney Channel Original Movies, Disney's Descendants: The Musical is a brand-new musical jam-packed with comedy, adventure, Disney characters, and hit songs from the films!

Imprisoned on the Isle of the Lost – home of the most infamous villains who ever lived – the teenaged children of Maleficent, the Evil Queen, Jafar, and Cruella De Vil have never ventured off the island… until now. When the four troublemakers are sent to attend prep school alongside the children of beloved Disney heroes, they have a difficult choice to make: should they follow in their parents' wicked footsteps or learn to be good?

$15 General Admission ($1.50 fee added for credit/debit cards) - available online at http://www.wufactickets.ludus.com

Entry doors #11 & 12.

7:00 PM to 8:30 PM

Wayland Theatriks presents "Disney's Descendants: The Musical"

Location:

WUFAC - Auditorium

Calendar:

Fine Arts Center Calendar

Based on the popular Disney Channel Original Movies, Disney's Descendants: The Musical is a brand-new musical jam-packed with comedy, adventure, Disney characters, and hit songs from the films!

Imprisoned on the Isle of the Lost – home of the most infamous villains who ever lived – the teenaged children of Maleficent, the Evil Queen, Jafar, and Cruella De Vil have never ventured off the island… until now. When the four troublemakers are sent to attend prep school alongside the children of beloved Disney heroes, they have a difficult choice to make: should they follow in their parents' wicked footsteps or learn to be good?

$15 General Admission ($1.50 fee added for credit/debit cards) - available online at http://www.wufactickets.ludus.com

Entry doors #11 & 12.

7
8

May 8

7:00 PM to 8:00 PM

WUMS Choir Spring Concert

Location:

WUFAC - Auditorium

Calendar:

Fine Arts Center Calendar

WUMS Choir presents it's Spring Concert.

Entry doors 11 & 12.

The concert will be live streamed on the Wayland Union Fine Arts Center YouTube channel: https://www.youtube.com/c/WaylandUnionFineArtsCenter

9

May 9

7:00 PM to 8:30 PM

7th-12th Grade Orchestra Spring Concert

Location:

WUFAC - Auditorium

Calendar:

Fine Arts Center Calendar

7th-12th Grade Orchestras present their Spring Concert.

Entry doors 11 & 12.

The concert will be live streamed on the Wayland Union Fine Arts Center YouTube channel: https://www.youtube.com/c/WaylandUnionFineArtsCenter

10

May 10

6:30 PM to 8:00 PM

7th-12th Grade Band Spring Concert

Location:

WUFAC - Auditorium

Calendar:

Fine Arts Center Calendar

7th-12th Grade Bands present their Spring Concert.
Entry doors 11 & 12.

The concert will be live streamed on the Wayland Union Fine Arts Center YouTube channel: https://www.youtube.com/c/WaylandUnionFineArtsCenter

11

May 11

6:30 PM to 8:00 PM

WUHS Choir Spring Showcase

Location:

WUFAC - Auditorium

Calendar:

Fine Arts Center Calendar

WUHS Choirs present their Spring Showcase.
Entry doors 11 & 12.

The concert will be live streamed on the Wayland Union Fine Arts Center YouTube channel: https://www.youtube.com/c/WaylandUnionFineArtsCenter

12
13
14
15

May 15

6:00 PM to 8:00 PM

WUHS International Thespian Society Induction Ceremony

Location:

WUFAC - Grand Hall

Calendar:

Fine Arts Center Calendar

Induction ceremony for new WUHS members of the International Thespian Society.

Entry doors #11 & 12.

16
17
18

May 18

7:00 PM to 8:30 PM

Wildcat Dance Theatre Spring Dance Concert

Location:

WUFAC - Auditorium

Calendar:

Fine Arts Center Calendar

WUHS Wildcat Dance Theatre presents it's Spring Dance Concert.
Entry doors 11 & 12.

19
20
21
22
23

May 23

6:30 PM to 8:30 PM

Senior Academic and Athletics Awards Night

Location:

WUFAC - Auditorium

Calendar:

Fine Arts Center Calendar

WUHS Senior Academic and Athletic Awards Night.
Entry Doors 11 & 12.

The event will be live streamed on the Wayland Union Fine Arts Center YouTube channel: https://www.youtube.com/channel/UCnhAVUmU0XmSEYkqDYe_llg

24
25
26
27
28
29
30
31

May 31

6:30 PM to 8:00 PM

WUMS 8th grade Awards Night

Location:

WUFAC - Auditorium & Grand Hall

Calendar:

Fine Arts Center Calendar

WUMS celebrates it's Awards Night.
Entry doors 11 & 12.

The event will be live streamed on the Wayland Union Fine Arts Center YouTube channel: https://www.youtube.com/channel/UCnhAVUmU0XmSEYkqDYe_llg
Upcoming Events

WUMS 8th grade Awards Night

Location:

WUFAC - Auditorium & Grand Hall

Calendar:

Fine Arts Center Calendar

WUMS celebrates it's Awards Night.
Entry doors 11 & 12.

The event will be live streamed on the Wayland Union Fine Arts Center YouTube channel: https://www.youtube.com/channel/UCnhAVUmU0XmSEYkqDYe_llg