January 4, 2023
WUHS Debate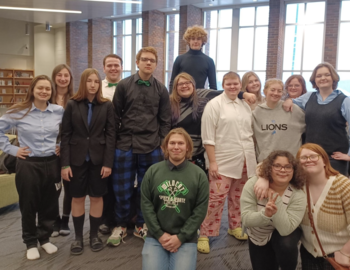 The Wayland Union Debate Team experienced a truly unique season! Our students did a fantastic job adjusting to a combined in-person and virtual competitive season. WUHS Debaters participate in legislative debate; a variation of student congress where they compete with 50+ students from various schools. Students gain valuable knowledge through research and writing legislation for the docket/topics of debate, they also gain real-life experience as they prepare arguments while improving their speaking and listening skills.
In a traditional year, the team would travel to various league events and tournaments around the state. This year the team hosted their league events in person at WUHS and then participated in a number of tournaments completely virtual; utilizing Zoom and the National Speech and Debate Association platforms. At each of the leagues and tournaments, our students submitted legislation to be debated and engaged in three rounds of debate. Wayland Debaters rose to the challenge and represented their team and community with pride bringing home a variety of awards throughout the season.
The culmination of the season is the Michigan Interscholastic Forensics Association (MIFA) State Championship (States). States celebrate the best of the debating world; MIFA hosted the 106th State Tournament virtually on December 10, 2022. At States, debaters highlight their collaboration, innovation, and design thinking in action through multiple rounds of competitive debate.
It is a huge accomplishment to be ranked in the top twenty in the state; varsity debaters Addie Huston (20th), Alecia Alonzo (19th), and Sydney VanPopering (17th) received that prestigious honor. It was an extremely close field, all debaters were within a few points of breaking into the finals. The highest honor is being ranked in the top 15; Captain Summer Morrison finished 12th and Carissa Yerxa 10th;
Our novice team did outstanding as well, Lilly Roberts finished 21st, Heaven Garcia 20th, and Hannah Roberts 17th. Making it into finals Jonathan Safro 15th, Aundre Frye 13th, Tyler Tylk 11th. Breaking into the top 10 and receiving awards are novices Dominic Craig 9th, Alex Oosterhouse 8th, Gillian Klug 7th, and Percy Ward 5th!
Coach Andrea Brown is thrilled with both the novice and varsity teams; "I am honored to work with such talented and motivated students. As a team, they are unstoppable; I can't wait to see what they do in the future!"